Are you bored by traditional window coverings? Want to give your windows a unique and unconventional look?
If your regular blinds, shades, curtains or drapes have become stale, it may be time to think outside the box and give your windows a makeover. Here's our list of 10 unusual window covering ideas to make yours stand out.
How to Make a Bold Statement With Not-So-Traditional Window Covering Ideas
Give your windows an instant facelift with uncommon, trendsetting window treatments that are sure to spruce up your home decor.
1) Old Maps
Maps make excellent shades for home office or kids room windows. This unconventional treatment is a perfect way to cover windows and grab some attention. Some stores sell map shades. But if you want to do it yourself, fuse a map-printed fabric to linen and then staple it to the roller of a store-bought shade. Fold the bottom up 1/2 inch, then 1½ inches, then pin and edge-stitch to sew a rod pocket. You can also sew a decorative pull to give it a complete look.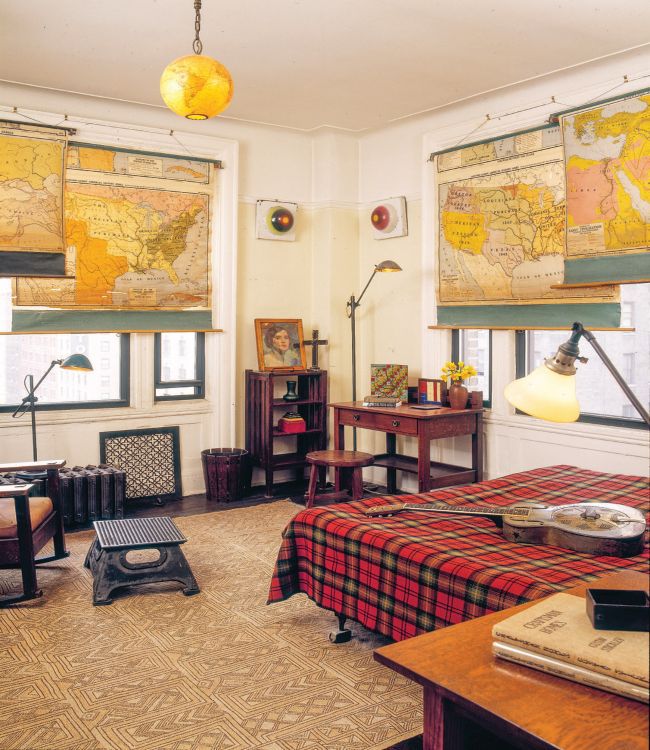 Creating Window Shades from Vintage Maps
2) Lace Doilies
Lace doilies are a great way to use something traditional to create something contemporary. Add some uniqueness to your little girl's room with vintage lace doily window coverings. All you need to do is sew some doilies together to make a simple collage. Here's a tutorial.
3) Macramé Wall Hangings
Give your windows a '70s look by hanging a beautiful work of macramé in front of the window. The sunlight filtering through and the elegant texture of this uncommon window covering will subtly up your room's style. This is an excellent way to add an eclectic boho-chic vibe in your living space. You can either buy these wall hangings online or make them  with the help of this DIY video.
4) Creative Curtain Rod
Sometimes you don't need to ditch your regular treatments to give your windows a new look. A slight change to the drapery hardware can also make a big difference. If you've dressed your windows with curtains, install some quirky curtains rods for a distinct look. An oar, a piece of reclaimed wood or a piece of industrial-style pipe can be a great way to add a little character to an otherwise ordinary window covering.
5)  Glass-Beaded Curtains
Another unusual window covering that not only enhances your room's visual appeal but acts as a beautiful suncatcher is glass beaded curtains. The colourful rays released by the beads will introduce a retro vibe to the room and transform its look and feel. Use this window treatment as a statement piece or a way to add a pop of colour to an otherwise boring room.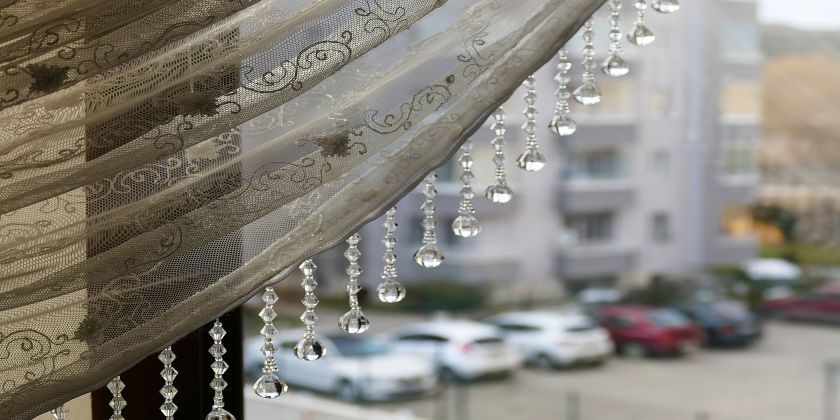 6) Washi Tape Blinds
Update your regular blinds by adding colourful washi tape to the slats. This easy craft project is renter-friendly as it's simple to change from season to season and leaves no residue behind. Choose bright colours like yellow, orange and blue in summer; red, white and green in winter. This idea works for both vertical and horizontal blinds.
7) Burlap Shades
Looking for an inexpensive, beautiful and quirky window covering? Burlap shades add a lot of character to a room and perfectly match rustic decor. The woven fibres reflect natural warmth when the sun shines through. This amazing window treatment introduces a casual appeal to your home in an uncommon way.
8) Ribbon Garlands
Love to add colours and patterns to your decor? Try adding an offbeat window covering of ribbons. This light and fancy window treatment is ideal for creating a one-of-a-kind fashion statement. All you need to do is knot a selection of ribbons over a cord or dowel to form a garland and install it on your windows. You can also customize the colour, pattern and length of these curtains.
9) Scrap Fabric Curtains
If sewing isn't your thing, try no-screw curtains made of scrap fabric. Simply cut the fabric you're no longer using and tie it around a curtain rod. Make sure it's of the same length for a uniform appearance. It will be a pleasant surprise to see how this look can come together.
10) Stencilled Roller Shades
Stenciling always gives an updated look to decor. Integrate stenciling into your roller shades to create an eye-catching and interesting window covering. It can be anything from beautiful motifs to initials, so put your creative foot forward and turn an ordinary-looking roller shade into an attractive one.
Done in a Day: Stenciled Window Shade
Take a risk and incorporate one (or more) of these quirky window covering ideas into your home to give your home an unconventional look. And, don't forget to let us know how it went. You can contact our window covering experts at 416-489-9990.