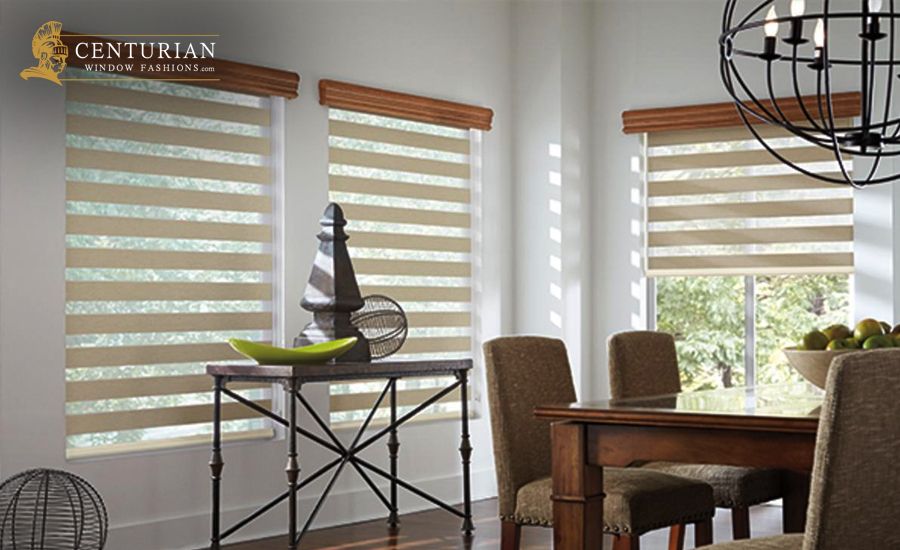 It has been a while since you changed the window coverings of your home and you have gotten plenty of utility out of it. Now that you want to change them, you may be having a hard time deciding on where to start. With so many new trends and evolving designs to choose from, narrowing down on one design and type of window treatment can be difficult. But, changing the coverings can alter the overall look of the room and is the easiest way to give your home a face-lift.
This post compiles the top trending styles of drapery and will give you an idea about the latest trends which you can adhere to while selecting the new drapes and curtains for your home.
Evergreen Window Treatments
The 2-inch slats aluminum blinds have always been in fashion and continues to be so even today. Though it is a designed that has been used time and again, its versatility and functional design make it a go-to choice among many homeowners. It is a smart and multi-purpose window covering that gives absolute control on the light flow.  You can pair it with curtains as well to personalize the overall look.
Quick Tip 1:
Velvet embellishments and tassels accentuate your curtains further and make them appear trendy and stylish, imparting a unique appeal when used along with aluminium blinds.
Classic grey, beige and basic white are still the go-to colour when you wish to play safe with the overall design. But, bolder colours are also making a comeback as many people are willing to experiment with the 80's and 90's design trends which are enjoying the spotlight at the moment.  If you are uncomfortable with loud colours and prefer understated décor but wish to incorporate the colour trends nevertheless, you can use the colours in a less influential manner.
Quick Tip 2:
Sheer fabrics have less colour saturation and is a good way to incorporate trending bold hues without going overboard with the décor.
The biggest mistakes homeowners make when choosing and installing drapery is the height of the curtains and the rod. The height of the drapes can create an illusion of higher ceiling height making the room appear larger if it is hung properly. Hanging it too low or right above the window makes the ceiling height appear shorter than it actually is. Irrespective of rods or tracks that you are using for hanging the curtains and drapes, try to install them at the highest point possible right below the ceiling.
Quick Tip 3:
You can opt for track mounting which is gaining popularity as homeowners are more in favour of contemporary styles.
Neutral hues have a timeless appeal and it never goes out of style. Off-whites, beige, light grey, taupe offer incredible opportunities to experiment with new ideas and looks universally appealing when combined with any bolder colours as well. Juxtaposing neutrals over neutrals is a bold idea which allows you to stick to the classic timeless colour palette while creating a unique and daring interior. Hanging two complementing neutral shades of curtains side by side can create a bold statement while maintaining the subtlety of the understated colour palette. You can also try using the half moon shaped window coverings which are gaining popularity these days and are associated with old-school European architecture. They can be customized to match your interiors and preferences.
Designer Daniela Tasca-York creates such a chic interior where the primary focus is on minimalism. She says:
"This look transforms your room into a place of pure serenity."
Quick Tip 4:
To create an overall understated look, use a variety of neutral tones for the furniture, accessories and other elements within the room.
Honeycomb blinds are in trend because of their unique look and functionality. They are usually very lightweight and are noted for muting light intensity yet also brightening the room at the same time. Its light filtering capacity is superior and ensure that your room is sufficiently warm. If you have a bay window, cellular shades are perfect to enhance the insulation for this challenging window design.
Quick Tip 5:
The combination of shades and drapes imparts an elegance to your décor and at the same time increases your privacy and home insulation.
Functional no-mess Mechanics
Roller shades have seen a resurgence in the past few years as homeowners look for functional window treatments which are easy and safer to operate. Designer shades from Hunter Douglas can be your go-to choice when you are looking for shades to create a trendy but functional look for your home. They are light-weight but energy efficient at the same time. The banded design allows effortless transition between view-through and complete privacy. Solar roller shades are great option to block UV rays and moderate the light intensity inside a room. Graber Roman shades are also in trend because it is versatile and available in varieties like cordless, corded, and motorized versions.
Quick Tip 6:
Look for fabric in colours and textures that will complement your overall décor. Motorizing the roller blinds make them safer and easier to operate.
As our lives get busier, managing every detail interior décor in the home gets more tedious. This is why we have smart technologies to control these chores automatically. There are motorized shades and blinds that are automated and come with an operating system that can be controlled by your smartphone. You can program the shades to close after a certain period or operate them just with your voice. They allow you to operate the window treatments without any hassle. Electric blinds are particularly suitable when you have large windows in the bedroom or home office, and they can be motorized for smooth operation. Motorized skylight blinds are perfect to let in the sunlight. They are highly functional and can be controlled with a corresponding app on your smartphone.
Quick Tip 7:
Before investing in an automated window treatment, ensure that the program can be operated with your smart device and syncs smoothly.
Window treatments can be used to create an illusion of space while maintaining your privacy. To make a smaller room appear larger, choose window treatments like shades and blinds which allow sufficient light in and brightens the room. Avoid blackout window treatments in such rooms as it will make it feel stuffier than it actually is. Horizontal blinds and shades are helpful when you are trying make the rooms appear taller. Horizontal lines create the illusion of height while vertical lines create the illusion of width.
Quick Tip 8:
Translucent fabric, mounting blinds on window trims all enhance the prominence of the windows, imparting an illusion of space to the room.
The window treatment you chose for your home has a major influence on the overall ambience of the room. To stay on top of the latest interior designing trends, updating your window coverings is a clever and simple method. The next time you go shopping for new window coverings, keep the above pointers in mind and you will be able to find the perfect window covering designs for your home. Our experts at Centurian Window Fashions are well updated with the latest trends and if you visit us, we can help you out with the right window treatments for your home.