Window treatments are integral to your home's decor as they provide privacy, protection from sunlight, andenhance visual appeal.
But like every other decorative and functional item in your home, they have a limited lifespan and will need to be replaced. If you fail to notice when, you risk your home's appearance and practicality.
Look for these telltale signs that your window coverings need replacing.
When to Replace Your Current Window Treatments
Window coverings are often overlooked when it comes to yourhome makeover. If you don't update them before the end of their lifespan, your homecan end up withcompromised functionality as well as looking dated and unsightly.
Here are nine telltale signs that it's time to purchase new window coverings.
1) You're Having Trouble Raising and Lowering Your Blinds
Operating your blinds should be smooth. Requiring a lot of force to raise or lower them could be either because they're stuck, or maybe it's time for a change. You can try fixing them, but it's advisable to buy new ones as the lift mechanism is hard to repair in older models.
2) Your Drapes and Curtains Are Stained, Discoloured or Faded
Fabric window coverings, like Roman shades, curtains and drapes, can be stained, faded, or discoloured by prolonged use and sun exposure. You can try getting rid of stains by spot cleaning or washing, but replacement is the only solution to give your windows an updated look.
3) Your Window Treatments Look Outdated
Maybe mini blinds were trendy when you bought your house, but now they're outdated. An old-fashioned window treatment, like valances and drapes with intricate motifs, can mar the beauty of your living space and stand out for the wrong reasons. Your best bet is to upgrade with contemporary options, like roller shades, sheers, or solar shades. They give your home decor an instant facelift.
4) Your Energy Bills Have Skyrocketed
Have you noticed a sudden increase in your energy bill? If so then it's time to reconsider how functional your window treatments are and question their insulating properties. You need window coverings that can trap air to maintain the temperature inside your home. You should replace your old window treatments and switch to cellular shades as they're an excellent choice for insulation. Besides looking beautiful, their honeycomb-shaped cells don't let inside air escape or outside air enter, thus keeping your home's temperature consistent.
5) You Notice Warped, Bent or Broken Slats 
Warped or bent slats can be a sign of humidity damage in wood blinds and heat damage in faux wood blinds. Wavy slats not only make your blinds look unpleasant but prevent them from raising correctly. Even if just one or two are damaged, replacing the whole set is recommended as eventually othersmay show signs of damage. If these blinds are installed in windows that receive a lot of sunlight, it's advisable to go with UV-blocking solar shades instead.
6) Your Window Treatments No Longer Meet Your Needs
Do your window treatments give you the privacy you need? Do they help maintain a comfortable temperature inside your home? Do they protect your floors and furniture from sunlight? Do you get a glare on your TV screen even when your window coverings are lowered or closed? If so then they aren't doing their job. That's when you need a replacement. Think about why you bought these window coverings and then start shopping for new ones to serve that purpose.
7) Your Window Coverings Are Not Safe for Kids
If you have children or pets, corded window treatments can be risky. They can become tangled in the cords, potentially leading to serious injuries and, in some cases, death. If you have cords that control blinds, get rid of them immediately and choose a child-safe option. Motorized blinds and shades, plantation shutters, and cordless roller shades are more suitable options.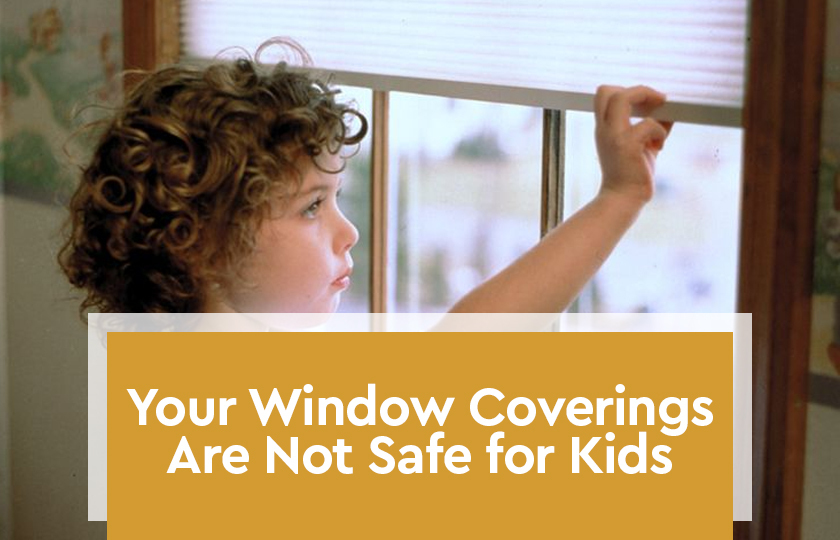 8) You Just Got New Windows
Have you recently changed the size or style of your windows, or added new ones? If so then this is the perfect time to get new window coverings to matchyour new ones perfectly. After all, your old ones won't necessarily fit. This is a great opportunity to update your home's appearance, increase the practicality of your windows, and find better window treatments.
If you haven't given any thought to replacing your old window coverings, these signsindicate it's time to do just that. Apart from obvious indicators like discoloured, bent or broken blinds and shutters, outdated, ill-fitting, and corded windows treatments are evidence enough of replacement. Feel free to contact Centurian Window Fashions for assistance in choosing the best window coverings for your home or office. Call us at 416-489-9990.