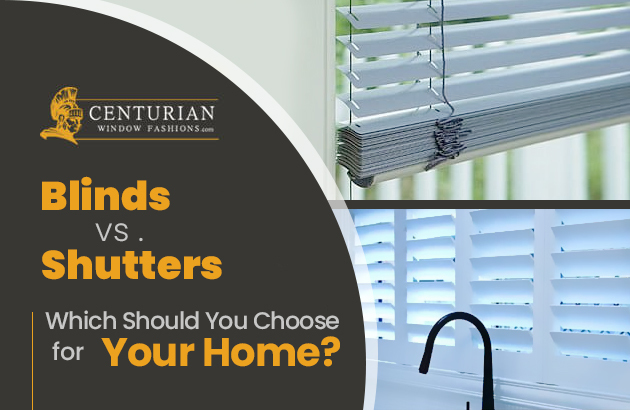 There are so many types of window coverings that it is hard to know which is best suited for your home, let alone tell the difference between them. When it comes to 'blinds' and 'shutters', these terms are often used interchangeably, even though they are substantially different.
So, what are their differences? Keep reading to find out which is best for your home.
How Blinds Differ from Shutters (Plus Their Pros & Cons)
Blinds – Advantages and Disadvantages
Blinds are available in two types:
Slat Blinds: Venetian Blinds and Vertical Blinds among others.
Full Cover Blinds: Roller Blinds, Roman Blinds and Honeycomb Blinds among others.
Benefits of Blinds 
You can pair them with other window treatments.
The fabric of blinds is softer and more aesthetically pleasing than shutters.
They are available in a wide variety of colors, designs, and styles, so it is simple to find one to suit your home. If you can't then you can go for custom blinds.
They are available in a wide range of materials, making them suitable for almost any environment. For example, PVC is suitable for high moisture areas like bathrooms, while lined roman blinds create a blackout effect in bedrooms.
You can easily adjust them for varying degrees of light.
You can go for manual or motorized blinds.
For added insulation, choose blinds with thermal lining.
They are easy to clean and maintain.
Drawbacks of Blinds 
They are durable but not as robust as shutters and have a shorter lifespan.
Their cleaning and maintenance require more work.
UV rays and too much moisture can destroy some blinds materials.
Using venetian blinds all over your home can be overwhelming because of their thin, horizontal lines.
Their cords and chains can be a choking hazard for children and pets.
Shutters – Advantages and Disadvantages
Benefits of Shutters
They are unique and add value to your home.
They are durable, long-lasting, and hardwearing.
There are no cords or chains, making them safe for kids and pets.
They can be good insulators, depending on the materials used.
They are easy to clean and low maintenance.
California shutters are very attractive and suitable for all home styles. They are timeless, modern, and elegant.
Shutters are available in a wide variety of materials like PVC and faux woods.
They offer excellent ventilation and light control, especially with cut-in-the-tilt bars and divider rails. You can open one half and keep the other closed
You can keep the windows open and shutters closed and they won't flap around as blinds do.
They are the best options for doors.
Drawbacks of Shutters (H4)
Shutters are expensive, especially plantation and California shutters.
Since they are fitted to reveal and not recess, they take more space.
You will have to mind the walls and furniture because you will not get much clearance for the door or window shutters to open.
They are heavy, so are not suitable for some window styles.
They take a long time to be manufactured and installed.
They are not as versatile as blinds.
What to Consider When Buying Blinds or Shutters
The more you know about blinds and shutters, the more confusing it can be. Ask yourself these four questions to narrow down your options.
1. Will Blinds Save Money?
The lower price tags of blinds compared to shutters is its biggest selling point. But will they still be saving you money in the long run? If you maintain blinds properly, they can last five to ten years. However, in similar conditions, shutters will last for up to five decades. And the cost can add up every time you replace your blinds. Also, shutters are more energy efficient and add to the resale value of your home.
2. What About Maintenance? 
Blinds are thin and use pull cords for adjustments. That's why there isn't much space between the individual blinds, making it difficult to clean them. The smaller the louvers, the more cleaning you will be doing. Since shutters have no cords and more space between the slats, they are easier to clean.
3. Which Control Light Better?  
Blinds don't offer complete control over light. Due to their construction, there will always be a little sunlight coming through the gaps. By contrast, shutters offer complete control over light.
4. What Are Your Style Choices?
Blinds come in a variety of styles, colors, materials, and designs. With the extent of selection they offer, you are bound to get something to complement your interiors. On the other hand, shutters are not that versatile.
For a more professional opinion, contact us for an in-house consultation. It will give you a better idea about your approach to your, window coverings. Should you go for custom blinds, California shutters or something else? Consider each factor carefully, from maintenance to cost and durability, before making your pick.