Shades Window Coverings in Toronto
Window shades are the perfect coverings for your home at times when you need complete privacy from the outside world. While functionality is the prime factor that determines the choice of shades, our wide range of window coverings can also be chosen according to your tastes, needs and aesthetic styles. Our shades offer optimum privacy as well as sun protection for your interiors while consisting of modern designs.
Centurian Window Fashions brings you the best shades from the leaders in window coverings all over North America, offering you an exclusive range of choices in designs, styles, colour, fabric and motor ability. We offer shades made of natural materials like bamboo and wood, and we also have shades made of other premium materials. In addition, we offer custom window fashions for you to match with your interiors decor.
Choose from a wide range of solar shades that block out light and allow you to cut down on your energy usage and protecting you from the harmful UV rays of the sun. Also, our roller shades come from the premium brands in the window fashions industry like Hunter Douglas, Maxxmar, Levolor and others.
Check out our extensive collection of shades in endless colours, fabrics and designs.
Browse Our products
Colour customization, functionality and a classic design all rolled into one.
Combining safety and privacy, motorized shades brings modern technology to your windows.
Protect your home's interior from harsh sunlight with this useful window dressing.
Can't decide blinds or shades? Have both when you install this window dressing.
Allow your windows a play of light and shade like no other shades can provide.
Have your windows look pretty and provide privacy with these sharp shades.
Insulate your room from the heat and the cold with this budget-friendly window covering.
A unique blend of organic materials that help create an inviting space.
Get better, more restful sleep and feel refreshed every morning.
Improve light control in a room and turn it into a talking piece by installing pleated shades.
Bring the beauty of nature into your home. There are many benefits that come from installing…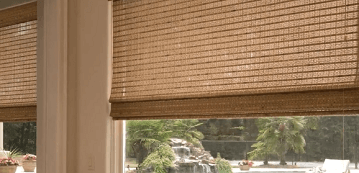 Bamboo shades are more than window treatment; they're a trending, decorative accessory..
Make an impact with colourful digitally printed shades
A functional, horizontal shade that complement open concept spaces.
Book an appoinment for free in-home consultation. Call us at:
416-489-9990