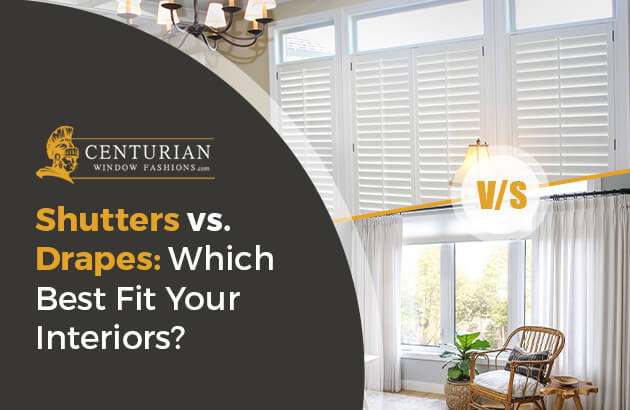 Light is one of the most critical elements of room decor. And the kind of window treatments you pick will determine how well they function in your home. The right window coverings not only enhance its look but maintain your privacy and illuminate your house.
However, with so many options, it is easy to get confused. The first thing you should know is the difference between window coverings. Here, we examine how drapes differ from shutters. We will also explain why various shutters, like plantation or California shutters, are suitable for certain places while drapes are best suited to others.
How Shutters and Drapes Differ from Each Other
Each type of window covering is different in characteristics and features. Here we look at the unique qualities of shutters and drapes.
1. Light
When picking a window treatment, consider three things:
● Light sources in the room
● How much light you want in the room, and?
● The effect of light on the room
You can open, tilt, and close shutters to get the amount of natural light as you want. But compared to draperies, they don't offer many options for diffusing light.
These are a great fit for areas where you need a lot of light, like the kitchen, living room, bathroom, family room, or reading room. They are also good at offering sufficient light while hiding the view outside.
Drapes, on the other hand, are great options for offering diffused light or a total blackout. You can add a sheer panel or dim out lining for diffusing the light, or blackout lining to block it. If you are selecting window coverings for a bedroom or guest room, go for blackout drapes. You can also use drapes for the living room for a good view outside along with an uninterrupted flow of light.
2. Privacy
Both shutters and blinds are excellent choices of window coverings for privacy. Add a mid rail to each panel of your California shutters to keep the top half open for light and the bottom half closed for privacy.
Drapes are heavy and therefore good at offering privacy. Unlike shutters, you can't have both light and privacy at the same time. When drawn apart, you get ample light but not privacy; when pulled together, you get all privacy but no light. You can, however, combine them with sheer curtains on a double drapery rod to allow just the right amount of light and privacy when drapes are open.
3. Look
Both have a distinct look that adds a different appearance to your interiors. Shutters usually come in a limited range of styles and patterns, and offer a formal look to your home. Their sleek appearance is also suitable for a modern-looking home. And shutters with the classic 2" louver with a center-tilt rod is a no-brainer for a traditional look.
Drapes can also be formal looking if you go with solid colours that blend with your walls and puddle a little on the floor. If you want, you can add a little drama to your interiors and play with different textures and patterns. You can add a valance for a royal look or get customized drapes to make a statement. It has more options for various looks compared to shutters.
4. Maintenance
Maintenance is a crucial factor to consider while selecting a window covering. Shutters are extremely easy to maintain; only needing periodic dusting with a gentle cloth. Every once in a while, you can clean the louver with a damp cloth to keep them as shiny as new.
The upkeep of drapes is a little more strenuous. You need to feather dust them often to prevent dust from accumulating. You also need to vacuum clean it once a month and wash it quarterly for the drapes to retain their shape and texture. Before washing them, check the instructions to see if they can be machine washed or should be dry-cleaned only. It takes a lot of time and effort to take down drapes and hang them back up. And if you have valences as well, it can be a little more complicated.
5. Cost
The final cost of shutters will depend on materials and the price of installation. In any case, they are more expensive than drapes but can last a long time if maintained properly.
Drapes are the best option if you are on a budget or if you like to change the look of your room frequently. Not all draperies are inexpensive, though. Custom draperies can cost a lot, depending on the material, texture, and design you choose, while blackout drapes are more expensive than regular ones. But they will cost much less than shutters.
Shutters and drapes both have their advantages and disadvantages. You can even combine them for a unique look and efficiency. But choosing which window covering works best will depend on many factors. Consider all of them and choose wisely because they can make or break the look of your home.