It is time to set new goals, make new promises and bring new changes into your life. This occasion is perfect to start fresh and live life in a new way. At Centurian Window Fashions, a well-known window covering store in Toronto, we encourage everyone to welcome 2019 by giving a refreshing look to your windows with inspiring window covering trends that are sure to revamp your home interiors.
Go through this blog post by our drapery experts to learn about the hot window covering trends you are sure to love.
1) Contrasting Curtains
Gone are the days of unicoloured curtains. 2019 is the year to break stereotypes by incorporating the contrast curtain trend. This is an excellent way to give a warm and distinctive look to your windows by playing with complementing colours and patterns. For example, pair a bright coloured drape with a neutral coloured layer to incorporate the look with ease. This trend will help you transform your home décor from traditional to transitional while giving a clean and polished appearance to your interiors.
2) Jewel Tones
Say goodbye to drab curtains and embrace jewel tones this year. From ruby red to emerald green, these shiny colour tones are in vogue and create the atmosphere of luxury in any space. Blackout curtains and drapes featuring beautiful jewel tones will not only add some drama to an otherwise dull window but also create a sleep-conducive space without compromising on the style. You can incorporate this trend with contrasting curtains to achieve two looks in one arrangement.
3) Plenty of Natural Light
One trend that will never go out of style is window coverings that allow natural light into the living space. Window shutters, sheers and light filtering shades are great options to let your windows take up this trend. These window treatments allow more natural light inside and limit artificial light, thus adding more warmth and a stylish appeal to your living space.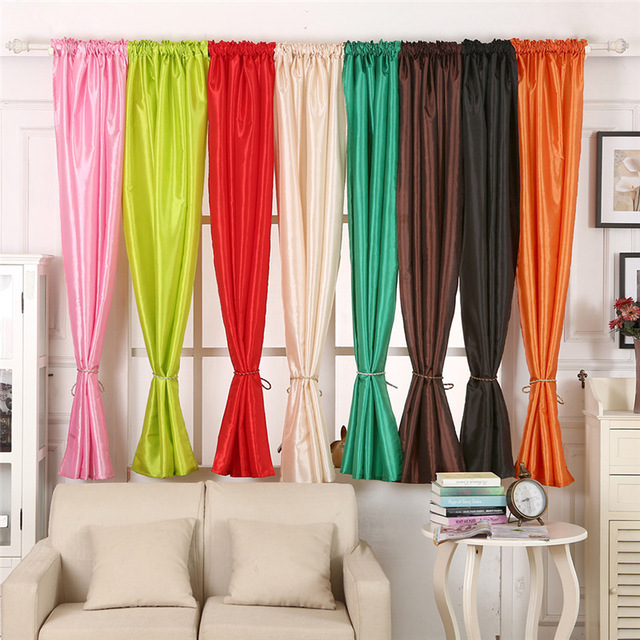 4) Decorative Embellishments
Custom-designed window treatments with decorative embellishments are in vogue because of their unique appeal. They add a personal touch to the home décor and let the homeowners show their creativity through their windows. To follow this trend, roman blinds or shades are your best bet. Get store-brought roman shades and add trims, glass beads, tape with shells, buttons or laces to enhance its appearance. Make sure that the fabric of the shades complements the embellishments you're adding. If you're new to DIY projects, read this post to learn how to add decorative trim to curtains.
5) Metallic Fabrics
Metallic fabrics of silver, gold and bronze are coming back in style. They give a grand look to your windows when layered with sheers in living rooms and bedrooms. This trend is sure to give a timeless appearance to your home décor as metallic fabrics offer a perfect blend of classic beauty and modern charm. To take this window décor trend to the next level, hang metallic drapes of matching metal rods and see how it accentuates your living space.
6) Country Checks
Apart from metallic fabrics for drapes, there is one more classic trend that is back in vogue this new year. Country checks are making a comeback in window fashion because their comforting appeal and warmth are unparalleled. Use café curtains, roman blinds, curtains or other custom draperies to add a cozy charm with these playful checks. To experiment with the look, you can go for muted shades and bold checks. Incorporating this trend will offer a beautiful blend of traditional comfort and contemporary appeal to your interior décor.
The window treatment experts at Centurian are updated with the latest window coverings trends to help you make your home New Year ready. 2019 is here and it is time to bring these trends to your home décor. But don't forget to share your experience with us by leaving a comment below. You can also give us a visit at our window covering store in Toronto.