Sliding glass doors are a wonderful way to let natural light into your home and easily access outside. But it can be challenging to cover these unique doors in a beautiful way. Try choosing a window treatment that looks good but does not affect the functionality of sliding glass doors. Here, you will learn about some excellent window treatment ideas for sliding doors to spruce up your home interior décor.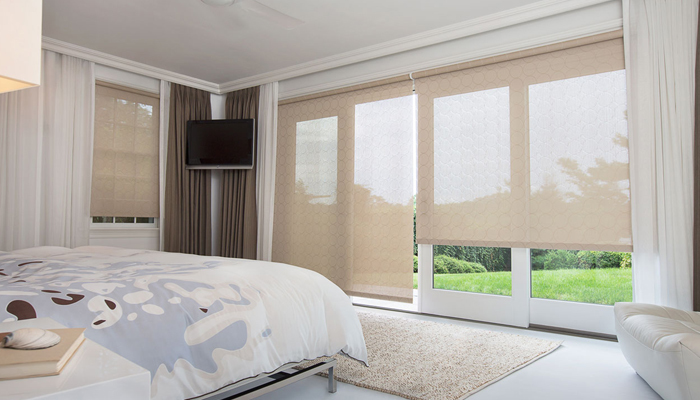 What Are the Best Window Treatments for Sliding Doors?
Vertical blinds
Vertical blinds are one of the most popular treatment styles for sliding glass doors. When you install vertical blinds, you control the amount of light passing through. You can move the blinds totally or tilt the vanes open or closed to control the light that enters your living space. They also combat the circulation of hot or cold air inside your home; this helps you save on your energy bills. If you are looking for a highly durable window treatment for your sliding doors, vertical blinds are ideal. They are made of lightweight yet robust materials such as wood, faux wood, vinyl and fabric. Moreover, vertical blinds are easy to clean and available at affordable prices.
Vertical Sheer Shades
If you already have vertical blinds installed on your sliding doors and want to replace them, consider vertical sheer shades. They are made of high-quality vinyl vanes and sheer fabric, and add a sophisticated touch to your room. You can keep sheer vertical shades tilted open to let in sunlight via the fabric; for privacy, you can keep the shades closed to block the sun. When customizing shades, you can choose to mix and match fabrics to create a unique look. To keep them clean, it is easy to remove and wash the shades as required. To clean sheer vertical shades made with special fabrics, follow directions from experts.
Sliding Panels
To add a modern and sleek touch to your sliding glass doors, choose sliding panels. They are available in various shade fabrics, such as natural, roller, solar and Roman shades, so it is easy to get one suited to your home décor. If you have children or pets, sliding panels are a good option as they are cordless and safe to use. If you want to control your view outside and reduce light streaming on TVs and computer screens, use sliding panels in solar shade fabrics.
To filter light and darken your room, install sliding panels in Roman shade fabrics. Sliding panels make it easy to create a personalized appearance by mixing and matching various colours and styles on a single track.
Draperies
Draperies give a traditional and extravagant look to sliding doors and your room as a whole. They come in many different colours, fabrics, and patterns, making it easy to find the one suited to your home interior décor. For the smooth operation of draperies, the rod usually extends beyond the sliding door. Because of this, you can easily pull draperies off to the side to leave your door free or extended as required. If you want draperies that operate as a vertical blind, opt for a traverse curtain rod that lets rings slide across the entire window length.
Choosing the right drapery fabric is important. Sheer fabric draperies let sunlight enter your home, while blackout draperies block it, so select a fabric that complements your home décor and gives you the desired functionality.
To attain a layered look, blend draperies with other sliding glass door window treatments. Coordinate blackout draperies and sheer sliding panels or vertical cellular shades to control light inside a room.
Vertical Cellular Shades
Many homeowners in Toronto and other places in Canada prefer cellular shades because they make it easier to control room temperature and save on energy bills. The honeycomb-shaped cells perfectly cover your large sliding glass door as they trap air and act as an insulator. In vertical cellular shades, the pleats move up and down. Such shades give you a clear view outside, and their polished and contemporary appearance suit almost every type of décor. They are cost-effective and available in many colours.
To add vibrancy to your home interior and save on electricity costs, install vertical cellular shades on your sliding glass doors. To make cleaning your shades easy, select solar or vinyl fabrics you can wipe down with soapy water.
Sliding Shutter Panels
Sliding shutter panels add style to your sliding glass door and complement other shutters. They come with two big shutter panels that slide forward and backward like glass panes and cover your sliding glass door. These panels usually cover half a sliding door. To extend the wall track beside your sliding door, consult professionals. Tilt louvers to control light; for a clear outside view, use large louvers and keep them open. Always close your shutter louvers before moving forward and backward. If easy cleaning is important, choose PVC shutters, as dirt is easily removed by wiping them with soapy water. If you have a beach house, installing PVC shutter panels will allow breezes to flow freely across your room.
The right window treatment for your sliding glass door can transform the look of your home. Besides adding elegance and colour, they protect your family from harmful sun and provide your desired level of privacy. Just be aware of your needs and preferences in order to customize window coverings to fit your sliding door correctly. Professionals in your area can assist you in choosing the right window treatment for your sliding glass doors.