Sheer curtains may seem like a frivolous concept – what good is a curtain that doesn't block light? – but well-placed sheer curtains have several benefits.
But before talking about their advantages, it helps to first understand the differences between sheer curtains and sheer shades. A sheer curtain is a thin, gauzy fabric that filters some light and offers a little privacy but is more about form than function.
Sheer shades, on the other hand, combine the aesthetic beauty of sheer curtains and the practicality of traditional window treatments. Their design sandwiches sheer fabric between translucent materials for light-filtering and room-darkening.
Reasons to Have Sheer Shades at Home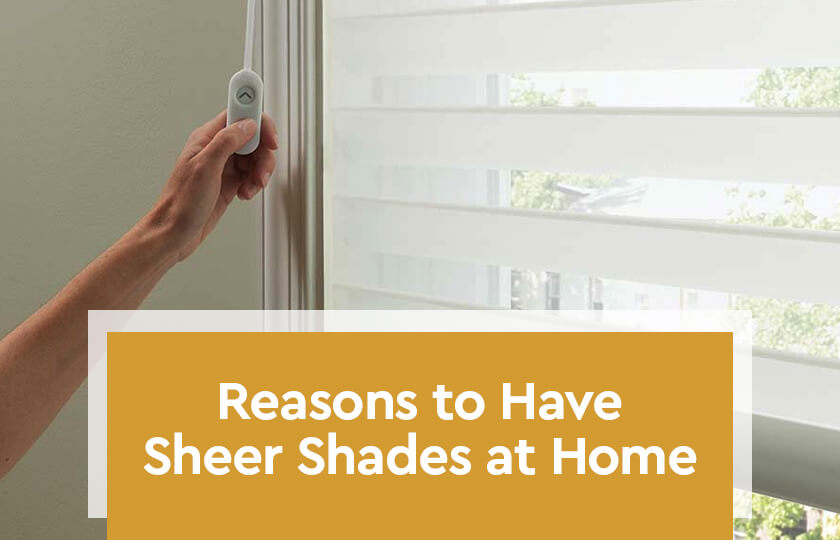 Sheer shades are valuable, versatile, and fashionable. There are many reasons why these special window treatments are a good option for your home.
1. Light Filtration
Spaces like bathrooms and living rooms require both sunlight and privacy. Pulling back opaque drapes or blinds can expose these rooms to excessive sunlight and challenge privacy, which is why translucent sheer curtains and shades are the better options. They filter natural light and offer UV protection without compromising privacy.
2. Beauty
These delicate shades add a whimsical look to a place with high contrast, along with a little softness and texture. Playing with them a little can create a new and updated look. Sheer curtains and shades add warmth and create a less formal look.
3. Colour Protection
Too much sunlight can quickly fade colour, while sheer window treatments allow you to both retain the colours in your furnishings and enjoy sunlight as well. They help control the amount of light coming in; thus preventing the colours of your rug, furniture, carpets, and paint from fading prematurely and being damaged by UV rays.
4. Privacy
If you have a window facing a busy street or residence, you either have to sacrifice sunlight and your view outside or your privacy. Sheer shades allow you to keep both. You can look out and enjoy natural light through the gauzy fabric while onlookers can't see inside.
5. Budget-Friendly
The lightweight fabrics used in sheer window treatments make them more affordable than heavier drapes or roller blinds. So if you have many windows or large, unconventionally-sized ones, sheer drapes can save you a considerable amount of money. Even custom-made sheer curtains will cost less than heavy drapes.
6. Easy to Operate
Sturdy and lightweight sheer curtains can be easily motorized. And motorized window treatments can be programmed for ease of operation and much-improved energy efficiency since they can automatically alter light levels. Motorized blinds come with many advantages, making them a perfect choice for people with disabilities.
7. Versatile and Customizable
Endless variants of modern draperies can be customized to match the style and colour of your room.
You can either use them as a solo window covering or in combination with heavy blinds and curtains. When you want some sunlight but also maintain privacy, pull back the heavier curtains but let the sheer shades be. When you need absolute privacy and darkness, use the heavier window treatments.
Materials Used for Sheer Curtains
Picking the right material for your sheer curtains is important because it is exposed to considerable amounts of natural light, dust, and rain. Hence, the material you pick should be durable, easy to clean, and fade-proof.
High-quality polyesters are a good choice because they are easy to clean and maintain.
Cotton and linen give curtains a sophisticated look.
Silk fabrics are also a good option for sheer window treatments due to their rich and luxurious look.
Chiffon is a cost-effective replacement for silk if you want a similar look.
Voile drapes beautifully, so is also a good choice for sheer curtains.
To give your curtains an elegant and glamorous look, you can also add lace trim. This may sound a little old-fashioned but can be found in modern patterns and styles as well.
How to Care For Sheer Shades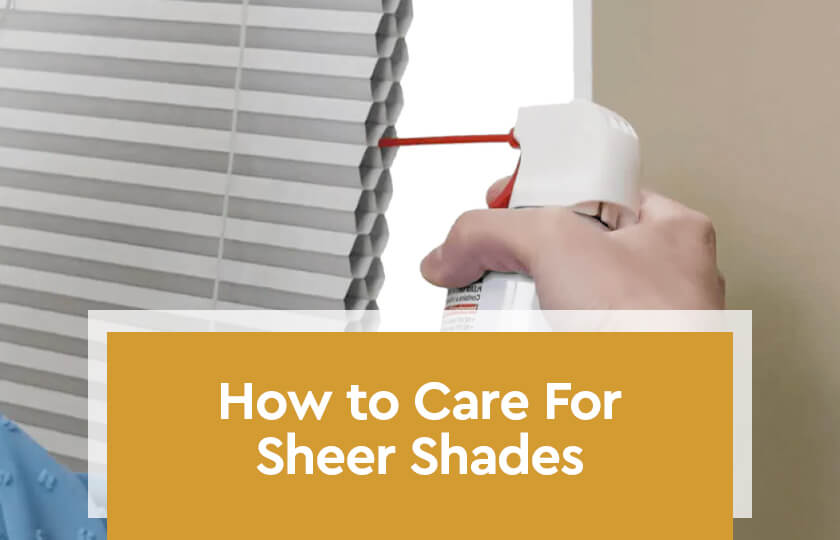 It's easy to fall in love with sheer window treatments. They are versatile, beautiful, and easy to clean. Here's how to care for sheer curtains.
Never use harsh chemicals or hard water.
Use feather dusters to clean the shades.
If you are using a vacuum cleaner, pick a low-suction attachment and setting.
Clean stains using a damp sponge and mild soap solution. Don't use hard detergents or chemicals.
Always read the instructions before washing sheer window treatments.
Sheer shades work well in partitioned areas like hallways and entrances. You can also use them in your living room and bedroom in combination with heavy drapes at night. When using them in places like the bathroom, take special care to protect them from moisture by picking the fabric wisely. You can browse our website to get an idea of what your sheer curtains will look like, or browse our other products and services.