Are you in search of the right window coverings but can't decide between curtains, drapes, blinds and shades?
Whether you're looking to spruce up your interiors or decorate a new home, the right window treatments can make or break its overall ambience. Along with being a simple way to upgrade the aesthetic appeal of a room, they're functional additions that allow you to control light levels, privacy, and ventilation. Furthermore, there are many options to choose from, ensuring you can create the right look and feel in any room.
However, this near-limitless choice can make it difficult to pick the perfect one. If you find yourself in a fix regarding window covering choices, don't worry. Here, we outline the benefits of four of the most common ones – curtains, drapes, blinds and shades – to ensure you make an informed decision.
Curtains, Drapes, Blinds & Shades: Which Is the Best Window Covering for Your Home?
Should you purchase curtains, drapes, blinds, or shades? To choose the right one, let's learn the benefits of these window covering options.
Curtains
Curtains are made using panels of different fabrics. They come in pairs, with many options to choose from in terms of size, design, material and colour. Their versatility makes them a popular option and allows them to be used in virtually any room, including kitchens and bathrooms. Other advantages include:
1. Privacy
Curtains safeguard our security and privacy by effectively preventing strangers from peeking and prying.
2. Quality
High-quality curtain fabric won't snag or fade with sun exposure. Moreover, the fabrics typically belong to the same dye lot so you don't have to worry about the colour varying between products.
3. Options
You also have the opportunity to choose products that work as a focal point, with large patterns, differing textures, and bold colours.
Alternatively, if you want to create an airy and elegant vibe, you can choose sheer curtains. With such a wide range of options, you're bound to find something perfect for every room in your home.
Drapes
Drapes are also made using fabric panels and come in pairs, but are typically made using heavier fabrics. They can also be lined with different materials for optimal privacy and light control. This makes them ideal for bedrooms, nurseries, and other rooms that would benefit from these qualities. Here are some other qualities that draperies offer.
1. Insulation
Draperies offer great insulation owing to their thick fabrics. So, by keeping them closed in summers, you keep both sunlight and warm air so you can enjoy a more comfortable temperature indoors. Alternatively, during winters, they prevent heat from escaping through windows and ensure your home remains warm and cozy without putting extra pressure on your heating system.
2. Sound Reduction
Generally, soft furnishings, including draperies, help reduce the amount of noise or sound that travels through a space. With newer properties being built with open concept living areas and higher ceilings, sound travels a lot further. But, by adding soft window coverings like drapes, you can control how much sound or noise travels. They also help reduce noise from neighbourhood children or your busy city street.
Blinds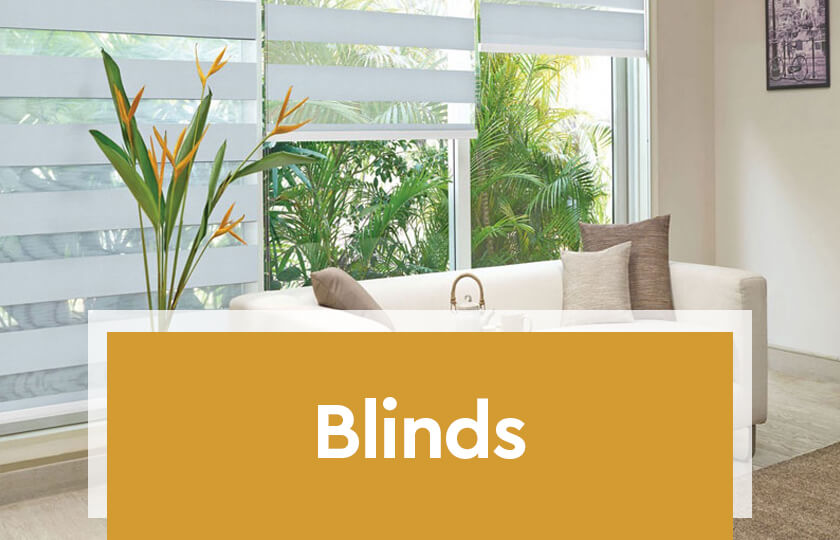 Blinds are constructed with slats that can be lifted up and down using a cord or other lifting mechanism to open or close. They can be made using aluminum, bamboo, vinyl, wood, or faux wood, offering a wide range of options. Some other advantages that homeowners enjoy with blinds are:
1. Decor
Since blinds are available in various materials, homeowners can find them in different colours, patterns, and styles to match their interiors. The countless options mean you can create any look and feel you want to achieve to complement your existing furnishings and stay on budget.
2. Pocket-Friendly
Sunlight can warm your interiors and increase the need to use air conditioning. The result is higher utility bills. Although this can reduce your need for heat on in winter days, you'll likely have to spend more during the warmer months.
With window blinds, you can rest assured knowing you'll be saving money by reducing your energy consumption. Additionally, blinds can save your furnishings from fading due to sun exposure. This helps you avoid having to change them (or their covers) every few years.
Shades
Shades are constructed using soft fabric panels attached to a frame or rod mounted on the upper edge of the window frame. They are sold individually and come in a wide range of materials, colours, sizes, and widths to fit within frames of varying sizes. They can be raised and lowered using a roller, cord, or other lifting mechanisms. Here is the main reason why you would want to invest in shades.
1. Insulation
Shades help control room temperature. In winter they prevent warmth from leaking out and cold from leaching in. Cellular shades are particularly effective at this, as they trap air against the window and prevent it from entering the room.
On the other hand, if you are looking for shades that allow air ventilation in summer, choose bamboo or woven wood shades. There are virtually limitless options to choose from.
Curtains, drapes, blinds and shades all have their own benefits. So, when looking for a window treatment for your home, your choice comes down to your needs and preferences. Regardless of whether you want to update your home or decorate a new one, the right window treatment can make all the difference.